From the Archive: Harvey Sid Fisher
|
A special treat this month. We've unearthed photos and a review of the Harvey Sid Fisher show from way back on March 5, 2000. The review was published in the Daily Hampshire Gazette and written by go-to session player, journalist, musical sponge, and current B-52 keyboardist, Ken Maiuri. Ken wrote a column called Clubland in the Gazette that ran from the late 90s until 2019. He reviewed and previewed shows, interviewed local and touring bands, and was an enthusiastic scene booster. The column is an incredible archive of all the various streams of music that passed through Western Mass over the past 20 years. Ken's writing is thoughtful, well researched, detailed, and funny. We hope to feature additional Flywheel-related material from Ken in the future.
Harvey Sid Fisher at Flywheel on Sunday, March 5, 2000
By Ken Maiuri
A 58-year-old guy walks into a performance space wearing a white tuxedo that he bought at a Hollywood tag sale. He sings songs about the signs of the zodiac over a wobbly garage-rock racket made by a motley gang of kids. There are two high-heeled backup singers doing synchronized dance moves throughout. And the guy often poses mid-song for adoring fans and their flashbulbs.
This is no joke. This happened. At Flywheel in Easthampton this past Sunday night. This is the world of Harvey Sid Fisher, the relaxed Los Angeles-based songwriter/actor/golfer. (His T-shirt proclaims: "Exotic, Erotic, Macrobiotic!") He's built a fan base around the world thanks to his legendary "Astrology Songs," which first appeared as unforgettable low-budget videos in the late-'80s, and then the excellent tunes themselves got released on LP and CD in 1993.
ARIES (2:45) from harveysid fisher.com on Vimeo.
For those unaware of Fisher's achievement, he's written twelve songs, one for each astrological sign, which he croons nasally over peppy, chintzy synthesized music. Sometimes he takes the show on the road (he previously played the area back in 1995, at the Bay State in Northampton), but rather than sing to canned music, he enlists a live band of eager souls to accompany him.
For this trip, Fisher's hearty musicians were New England-based guitarist Ken Cormier, bassist Patrick Penta, drummer Jon Kleinman, and backup vocalists Kirsten and Beth. They obviously didn't have much time to prepare: during the show, much sheet music was rifled through, and Penta in particular played in a busy style that seemed to say, "I'm not sure what notes I'm supposed to play, but if I play enough of them I'll hit a right one in there somewhere." But the rudimentary sound was strong on every intro and chorus, where it was needed most, and what the band lacked in tightness, they more than made up for in loose energy.
The "live band" idea is Fisher's stroke of genius, because unlike his album's synthesized vibe, the natural force of live guitar, bass and drums injects the songs (and Fisher) with the power to rise above the camp and into the realm of…well, I can't quite put it into words, but it's pretty cool.
Fisher's way with a lyric is clever, and his simple musical hooks can't be denied. Once heard, you simply cannot get refrains like "I am, I am, I am the ram" out of your head. And with a band full of excited rockers slamming that hook home with goofy glee, the effect is weirdly anthemic.
And other times it's just plain weird, especially when Fisher strays from the zodiac stuff and starts singing other original songs. Like the "arguing couple" song called "I Want Sex." Or "Country Scat," a head-shakingly banal tune that seemingly exists only to give Fisher the chance to repeat a chorus full of nonsense sounds. And then there's "Party Hard," for which the tag-sale-tux-wearing vocalist did an amiably indecent call-and-response with his backup singers (it included more orgasm-faking than That Scene from "When Harry Met Sally"). And in the middle of all this, Fisher did a completely honest anti-war song. And also read from a list of funny-to-him bumper stickers.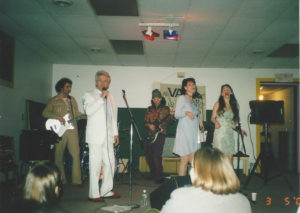 There were about 30 people there to see Fisher do his unique thing, everyone from sprawled-on-the-floor punked-out fans who'd seen him at some of his earliest shows, to middle-aged couples who looked on good-naturedly from their folding chairs. Fisher — who has been flown out from California by clubs in NYC and Boston for packed one-off shows — really worked the small crowd. By the end of the two-hour-plus gig, he was on a first-name basis with about half the audience, and during one extended jam, he walked out into the crowd and shook hands.
He serenaded a dancing couple during the mellow "Moonchild," and stopped another twosome who were leaving mid-performance, guilting them back into the room for another few songs.
The show was good, it was bad, it was bizarre. Truly a night to remember.