Latest News
---
Come to Flywheel's First Ever Outdoor Block Party!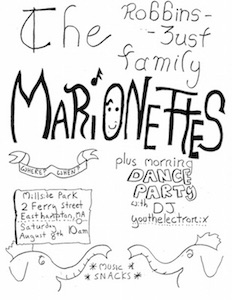 Partnering with Hilltown Families Flywheel is holding its first ever outdoor summer block party for kids at Easthampton's beautiful Millside Park, located just off the Easthampton Bike Trail.
Join families from across the region on Saturday, August 8 from 10am-12 noon for a summer celebration that features snacks, dancing, and a marionette performance. This family event is a fundraiser for both Flywheel & Hilltown Families, with a "pay what you can" admission to attend.
Following snacks, the event will feature a special engagement by the
Robbins-Zust Family Marionettes
. The Robbins-Zust Marionettes have been delighting audiences since 1971. They have performed classic fairy tales with their hand-crafted marionettes and live music for thousands of children of all ages... from the Dorset Playhouse in Vermont to the Grammercy Arts Theatre, the West Side Y and the City Museum in New York at fairs, schools, resorts, inns, libraries, homes, birthday parties, cabarets, stores, malls, temples, churches, and everything in between!
The Robbins-Zust Family Marionettes will be performing the classic fairytale Firebird which features giant live circus animal puppets. After the performance, kids will join DJ Youthelectronix for the "best ever dance party before noon".
---
Spring Flywheel Record Fair to be Held at EASTWORKS
Join us at Eastworks (116 Pleasant St, Easthampton) Sunday May 17 from 10AM-3PM for the Annual Flywheel Record Fair! There will be lots of vendors selling plenty of LPs, 45s, CDs and tapes, plus music memorabilia.
As always, this event is a fundraiser for Flywheel. Come support affordable cutting edge art in Western Mass and get some great music as well.
---
7th Annual Kiss n' Tell Ball
Community Action Youth Program of Greenfield is hosting it's 7th Annual Kiss 'n' Tell Ball on Friday, April 17 at Flywheel.
There will be live drag performances by Serenity Lockhart, Tytannia Lockhart, Jenayah DeRosario.
LGBTQ youth ages 12-21 are invited to enjoy a night of fun and dance! It's FREE ADMISSION!
---
Saturday Morning Music Party Returns!
On Saturday March 14 & April 18 the parent and kid favorite, Saturday Morning Music Party returns! Sponsored by Flywheel & Hilltown Families the events will be fundraisers for both organizations.
The events will feature free pancakes, new webisodes of Pancake Mountain, the PBS web series, and a micro-dance party with DJ Youthelectronix.
Check out the Facebook event to let us know you're coming!
---
Pioneer Valley Zine Fest 2015: Save the Date!
Flywheel will play host to the Pioneer Valley Zine Fest once again this year on Saturday, April 11th as part of the Easthampton Book Festival. This all-day event will feature zine creators, workshops, readings, and other performances with more TBA soon!
Visit the Facebook event page for more info about table reservations, workshops, and other updates!
---
About Flywheel
Flywheel, a collectively run, not-for-profit space, aims to build community and give artists of all types the opportunity to craft, practice, and perform their work in an environment where creativity is valued over profit. Volunteer-run and governed by consensus, Flywheel believes that art and information should be equally accessible and affordable to all people. The all-ages, alcohol- and drug-free space features a cafe, zine library, performance space, and an art gallery. LEARN MORE ABOUT FLYWHEEL.
Events Calendar
Keep an eye on this space for info on upcoming meeting dates, events, and performances.
---
October 7, 2015
6:30-9pm

Zine Committee Potluck/Cataloging Party
Come read and catalog zines with the zine committee! Bring a friend, a laptop, and a dish to share.
---
7:30pm free

FLYWHEEL VOLUNTEER OPEN HOUSE
Interested in volunteering at Flywheel? Do you want to book your own shows and events? Work sound, the door, or cafe during one of our awesome shows? Help the zine committee? Support us in other ways? Come by and get an intro and signed up on our volunteer board!
---
October 9, 2015
8pm 6$

symptomatic
vic rawlings & steve norton duo of electronics and reeds
arkm foam
---
October 10, 2015
4 - 5PM 0

The Real Samuel and Emily Williston a talk by Richard Teller.
---
October 11, 2015
Arizona all native-american punk band!
Super Drum Boy
Bleep and Boop Noise 8-bit punk drums
queer minute pogo punk
berklee punx with 10TH LEVEL FLAIR SPELL
party punk folk family band
FB event: https://www.facebook.com/events/569404773208535/
---
October 14, 2015
7PM free

General Body Meeting
---
October 16, 2015
8:00pm 6$

drom for du dor
egg,eggs
---
October 17, 2015
10:00 a.m.

Sponsored by the Bahá'ís of Easthampton, devotional gatherings are scheduled twice per month to share a devotional spirit of joy, love and fellowship. Readings are taken from scriptures of Christianity, Islam, Judaism, Hinduism, Zoroastrianism, Buddhism and others, as well as the Bahá'í Writings. Participants are encouraged to bring their prayer books, favorite poetry or other meditative passages to share. There is no established ritual and no solicitation of funs. We often go out afterwards for further fellowship at a local coffee shop or bakery.
---
October 23, 2015
8 7

Alice Bag
Chemiplastica
Do Not Forsake Me Oh My Darling
---
November 2, 2015
7:30pm Donation

Leslie James Pickering is a Buffalo-area activist and bookstore owner who was a co-founder of the North American Earth Liberation Front Press Office in the late 1990s. Following the discovery that his mail was being screened by the USPS, Pickering and his supporters initiated a Freedom of Information Act (FOIA) request to the Department of Justice and the United States Post Office to find out what was going on as well as a lawsuit when the response to the FOIA was slow. Pickering will come to Flywheel to discuss his case and pass the hat to raise money to help defray the costs of his case.
---
November 5, 2015
8pm 9$

Ken & Jason will be performing their duo with guitar and saxophone.
Jake Meginsky will be playing percussion with electronics.
---
November 8, 2015
8pm 10$

Peacers
Elisa Ambrogio
Black Sky
---
November 21, 2015
7pm 5-10

---
December 3, 2015
7pm doors/8pm show $12

"tickets will not be mailed, your name will appear on a list at the door on the night of the show"
---
December 10, 2015
6:30-9:30pm

Light Up the Arts Holiday Bash is ECA+'s annual event that include a small works show and auction in support of the arts in Easthampton.
---
December 15, 2015
doors at 7:30pm $10/$12

+1 more tba
Advance tickets: $10 / Door tickets: $12
tickets will not be mailed, your name will appear on a list at the door on the night of the show
---