Latest News
---
The Annual Flywheel Record Fair is Here!
Join us April 27 from 10AM-3PM for the Annual Flywheel Record Fair!. There will be more than 25 local vendors selling records, from LPs to 45s, CDs and tapes, plus music memorabilia. If you missed out on Record Store Day, this is a great opportunity to support a local records vendor.
This event is also a fundraiser for the Flywheel Arts Collective. Celebrate and support Flywheel as it enters its 15th year as a non-profit organization in the Valley!
---
4/18: Benefit Concert for Skill Set: A New Retreat for 20-24 year olds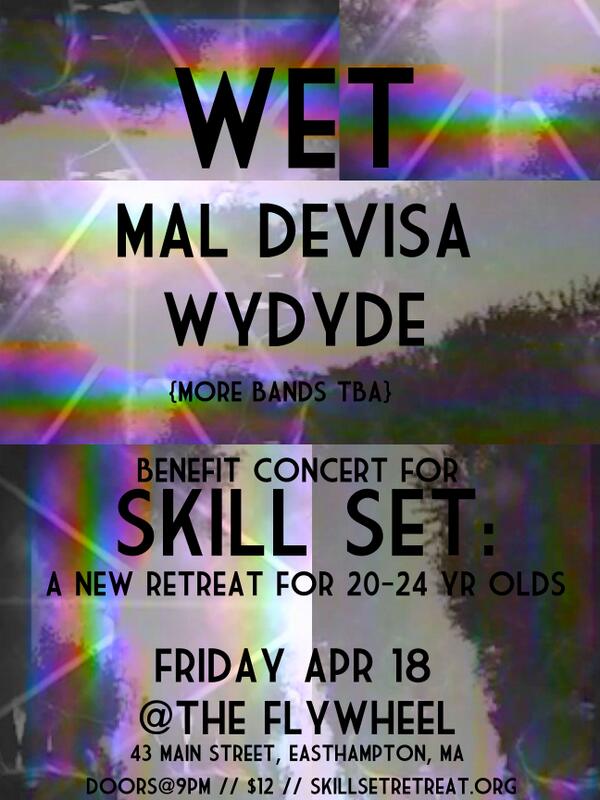 A benefit concert to support SKILL SET: a new retreat for 20-24 year olds is happening FRIDAY, APRIL 18th // 9:30pm // $12
Bands performing are:
WET from Brooklyn, NY
MAL DEVISA from Western Mass
WYDYDE from Western Mass
Skill Set is a new retreat for 20-24 year olds at the Rowe Center taking place between June 8th and 14th, 2014. Skill Set is a program for people in transition between adolescence and adulthood. We'll be working on personal growth and community building, emphasizing the vital skills of listening, leadership, and critical self-reflection. As we work on big questions about career, family, identity, and social change, we'll also be sharing experiences as cooks, carpenters, and wilderness explorers. Participants will gain new skills, insights about themselves, and new visions for their lives, communities, and societies.
---
Thurs. April 17--HOT FROTH: A PERFORMANCE ART PRODUCTION
Come out for a night of great art performances! A series of performance artists will share their work.
Title: brown gyrls apogee
* A short erotic performance piece choreographed and produced by
Nina Yagual
&
Tosca Ophelia Drum
. This is about a person who falls asleep for three years and the dance monsters come out to play. Are you curious?
Title: In Fallow Hearts
*A dance poetry about one gyrls yearning for a prayer that comes from hir heart. With fallow fields ze is carried by songs through long nights. Surrounded by the voices of hir family ze destroys the king of hir torah, and writes hir own br'cha-blessing. A performance by Ally Bells
Title: Eccentric Performance with Jolti the Clown
*Presented by
Dagen Julty
Features:
*
Alison Beth Levy
will be gracing us with astrology readings!!
*handmade art and clothing for sale
* Zines
*snacks
* live music- to be updated
A benefit show: 35% of the proceeds will go to the Flywheel arts collective and remainder will fund a trip to South America to study indigenous rights and social justice. With the intentions to provide nutritious food, computers, up to date books, clothing, etc. to under-resourced prisons in Ecuador.
Sliding scale of $5-$20 is appreciated but NOT REQUIRED FOR ENTRY
---
APR. 5--BENEFIT SHOW FOR LETHA AND DAN MELCHIOR
Saturday, April 5, Banditas, Fancy Trash, Byron Coley, and Saturday will be playing a great show in support of Letha and Dan Melchior. Letha has been battling cancer, and proceeds are going to the family in support.
Vegetarian and meaty delights will be served!
April 5 2014
Flywheel Arts Collective
43 Main Street
Easthampton, MA
---
March 28: The 6th Annual Kiss n' Tell Ball
Community Action Youth Program is hosting it's 6th Annual Kiss 'n' Tell Ball on Friday, March 28 at Flywheel. With live performances by Crystal Foxx and Jay Moves, LGBTQ youth ages 12-21 are invited to enjoy a night of fun and dance! It's FREE ADMISSION!
For more infomation, contact Kat Newman at genq@communityaction.us or 413-774-7028 x5.
Kiss 'n' Tell Ball
March 28, 7pm-10pm
@ Flywheel Arts Collective
43 Main Street
Easthampton, MA 01027
---
About Flywheel
Flywheel, a collectively run, not-for-profit space, aims to build community and give artists of all types the opportunity to craft, practice, and perform their work in an environment where creativity is valued over profit. Volunteer-run and governed by consensus, Flywheel believes that art and information should be equally accessible and affordable to all people. The all-ages, alcohol- and drug-free space features a cafe, zine library, performance space, and an art gallery. LEARN MORE ABOUT FLYWHEEL.
Events Calendar
Keep an eye on this space for info on upcoming meeting dates, events, and performances.
---
April 24, 2014
6:30pm

Flywheel Zine Committee work-party potluck
Help us catalog our zine collection. Bring a laptop and a dish to share.
---
April 25, 2014
A Benefit/Book Drive for those who are incarcerated featuring musical performances from:
NEUTRAL FIXATION
wmass psychpunk
GAY MAYOR
holyoke mayhem
CERTAIN DEATH
the musical genius of sean durham.
NOISE NOMADS
the best. wmass noise.
A Benefit show/Book Drive!!! Please bring a SOFTCOVER book (or two or three or more) for a reduced cover charge at the door. Proceeds go to packing materials and books will be sent off to our fellow humans beings that are imprisoned. Literacy is important--especially to those who are dis-empowered by the state. Here is a list of preferred donation materials (taken from the former Prison Book Project): Dictionaries (English and Spanish/English) Fantasy and science fiction Westerns Mysteries African-American, Latino American, and Native-American fiction, history, and studies Gay, bisexual, and transgender fiction, history, and studies Buddhism, Paganism, and Wicca Yoga and meditation How to and repair manuals (automotive, carpentry, electric, HVAC) How to draw and paint Word games: crossword puzzles, word searches, Sudoku, etc. Support Punk Support Prisoners Support Literacy
---
April 27, 2014
10am-3pm Free

Flywheel Record Fair
There will be 25+ vendors selling a wide variety of lp's, 45's, cd's, and music memorabilia. This event is a fundraiser for the Flywheel Arts Collective
---
May 1, 2014
8 pm $5 - 7

Belligerent Industrial Legends from Harrisonburg, Virginia
The Grudges
---
May 2, 2014
wmass punx!!!
SWEET JOHN BLOOM
new band from boston with membs of Daniel Striped Tiger and Dweller on the Threshold.
MEAN MAN'S DREAM
members of aerosols and wasteland.
WORN LEATHER
new punk from CT. Members of Dead Uncles and Snot Rocket.
---
May 3, 2014
10am-4pm free

Pioneer Valley Zine Fest 2014 is happening! Organized by the Flywheel Arts Collective Zine Library Committee, this all-day event will feature zinesters and organizations from in, around, and beyond the Pioneer Valley. Quarter, half, and full table reservations for zinesters and organizations can be made through our reservation form (email info@flywheelarts.org or visit the PVZF Facebook page). Zine-making and collaboration workshops will also be held. Attendance is free! In addition, this year's Pioneer Valley Zine Fest will be a part of Flywheel's 15th anniversary as a DIY music venue and arts collective (read: birthday cake). Questions, comments, concerns? Email info@flywheelarts.org. Check our FB and event page for upcoming updates!
---
May 6, 2014
8pm $5-8

super-catchy poppy post-hardcore, on tour from Richmond.
hometown specimens of darkness playing melodic punk.
Mold Spores
new wmass via cape cod transplants.
---
May 10, 2014
3:00-9 p.m.

EHS Arts Festival: Happening throughout the Old Town Hall. Visual Arts, Performance, and more!
---
May 11, 2014
10 a.m. to 12 noon

Devotional Gathering THE PUBLIC IS INVITED to join us for prayers, meditations and poetry from a variety of philosophers and faith traditions. Sponsored by the Bahá'ís of Northampton and Easthampton. For more information, please visit http://pvbc.local.bahai.us/activities/devotional-gatherings
---
May 14, 2014
7:00pm

Flywheel General Body Meeting
All are welcome.
---
May 15, 2014
Half a Girl Comedy
Release party for comedy group website
---
May 17, 2014
8:00pm $12

Rare appearance by one of the folk revival's last true originals. Not to be missed!
Local beards (minus one) with an eye towards the old, the weird and the American.
Advance tickets are available via PayPal for $12 plus a .75˘ service fee.
Tickets will not be mailed. Your name will appear on a list the night of the show
---
May 21, 2014
7pm $7

ANIMAL LOVER
---
May 22, 2014
7:30 6$

Smut
Rat Bastard
tba
---
May 28, 2014
6pm

Photo-collage Workshop with Stacy Waldman
---
June 7, 2014
Xanthocephalus
Parashi-Belltonesuicide duo
---
June 15, 2014
8pm $6

---
June 20, 2014
7pm $8

songs that envelope and overtake the listener, with clear and urgent vocals that swell with delay, blasts of noise and reservoirs of reverb to create some of the best and exciting music being made today. Haunting and striking, melodic and inviting, driving and innovative, these are songs that stay with you, these are songs you will remember.
The Ukiah Drag are Floridians in New England exile: haunted by grave, aberrant definitions of post punk and rock n' roll and what it ultimately means for the Superego to be blitzed by the Id. The DIRT TRIP single wields a heavy creep-beat that cleans your dusty clock and takes you for a bourbon afterwards; its slide guitar and echoplex'd vocals trail bloodthirsty sultans into synesthetic merriment.
ZZONES
A New project from the minds of Moloney, Langellotti, Russell.
The brainchild of Will K. and Andrew J. A tumultuous, boundary-pushing sonic purveyor to satiate the constant hunger for new brutality. A true hardcore debut. This special performance features a full live band.
LA CAZA
c. dooley and friends. classic wmass noise.
---