Latest News
---
December 1, 2015: #GivingTuesday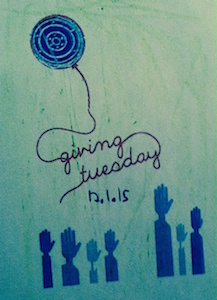 Flywheel will be participating in this year's Giving Tuesday a day of giving for local non-profits.
On December 1, individuals, fundraisers and nonprofits across America will unite for the year's biggest day of giving. One day to raise as much money as they can for the causes that matter to them. Please consider supporting Flywheel this day. #GIVINGTUESDAY
Donate to Flywheel HERE
---
Come to Flywheel's First Ever Outdoor Block Party!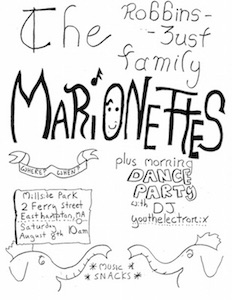 Partnering with Hilltown Families Flywheel is holding its first ever outdoor summer block party for kids at Easthampton's beautiful Millside Park, located just off the Easthampton Bike Trail.
Join families from across the region on Saturday, August 8 from 10am-12 noon for a summer celebration that features snacks, dancing, and a marionette performance. This family event is a fundraiser for both Flywheel & Hilltown Families, with a "pay what you can" admission to attend.
Following snacks, the event will feature a special engagement by the
Robbins-Zust Family Marionettes
. The Robbins-Zust Marionettes have been delighting audiences since 1971. They have performed classic fairy tales with their hand-crafted marionettes and live music for thousands of children of all ages... from the Dorset Playhouse in Vermont to the Grammercy Arts Theatre, the West Side Y and the City Museum in New York at fairs, schools, resorts, inns, libraries, homes, birthday parties, cabarets, stores, malls, temples, churches, and everything in between!
The Robbins-Zust Family Marionettes will be performing the classic fairytale Firebird which features giant live circus animal puppets. After the performance, kids will join DJ Youthelectronix for the "best ever dance party before noon".
---
Spring Flywheel Record Fair to be Held at EASTWORKS
Join us at Eastworks (116 Pleasant St, Easthampton) Sunday May 17 from 10AM-3PM for the Annual Flywheel Record Fair! There will be lots of vendors selling plenty of LPs, 45s, CDs and tapes, plus music memorabilia.
As always, this event is a fundraiser for Flywheel. Come support affordable cutting edge art in Western Mass and get some great music as well.
---
7th Annual Kiss n' Tell Ball
Community Action Youth Program of Greenfield is hosting it's 7th Annual Kiss 'n' Tell Ball on Friday, April 17 at Flywheel.
There will be live drag performances by Serenity Lockhart, Tytannia Lockhart, Jenayah DeRosario.
LGBTQ youth ages 12-21 are invited to enjoy a night of fun and dance! It's FREE ADMISSION!
---
Saturday Morning Music Party Returns!
On Saturday March 14 & April 18 the parent and kid favorite, Saturday Morning Music Party returns! Sponsored by Flywheel & Hilltown Families the events will be fundraisers for both organizations.
The events will feature free pancakes, new webisodes of Pancake Mountain, the PBS web series, and a micro-dance party with DJ Youthelectronix.
Check out the Facebook event to let us know you're coming!
---
About Flywheel
Flywheel, a collectively run, not-for-profit space, aims to build community and give artists of all types the opportunity to craft, practice, and perform their work in an environment where creativity is valued over profit. Volunteer-run and governed by consensus, Flywheel believes that art and information should be equally accessible and affordable to all people. The all-ages, alcohol- and drug-free space features a cafe, zine library, performance space, and an art gallery. LEARN MORE ABOUT FLYWHEEL.
Events Calendar
Keep an eye on this space for info on upcoming meeting dates, events, and performances.
---
December 1, 2015
Giving Tuesday
Giving Tuesday is a day of fundraising for non-profits. By donating on Giving Tuesday, your contribution will help support Flywheel as a long-standing all-ages venue, and its event programming. Follow us on Facebook and Twitter for some cool incentives when you donate!
---
December 3, 2015
7pm doors/8pm show $12

"tickets will not be mailed, your name will appear on a list at the door on the night of the show"
---
December 10, 2015
6:30-9:30pm

Light Up the Arts Holiday Bash is ECA+'s annual event that include a small works show and auction in support of the arts in Easthampton.
---
December 15, 2015
doors at 7:30pm $10/$12

Demonbrother
Advance tickets: $10 / Door tickets: $12
tickets will not be mailed, your name will appear on a list at the door on the night of the show
---