Latest News
---
MOM BABY GOD and J.D. SAMSON & MEN Presale Tickets
We are now sold out of presale tickets for MOM BABY GOD seats. However, we still have plenty of tickets left for J.D. Samson & MEN as well as standing room for MOM BABY GOD. So, buy your ticket now to make sure you can still see MOM BABY GOD & J.D. Samson & MEN!
Pre-sale tickets with a .75 cent service charge are available below for a total of $12.75 for standing room for MOM BABY GOD & J.D. Samson & MEN:
---
Rt. 9 Fire Benefit Show
On Friday, November 22nd, there will be a benefit for the business owners and their families affected by the fire in Hadley. 100% of the donations will be donated to the Hadley Business Fire Relief Fund.
8 PM $7 - 15
GUERILLA TOSS
ARKM FOAM
ZEBU!
FAT CREEPS
ZACH PHILLIPS (BLANCHE, BLANCHE, BLANCHE)
---
Flywheel's Annual Meeting Celebration!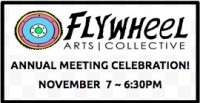 Thursday, November 7, Flywheel welcomes you to its Annual Meeting Celebration! Music by DJs Youthelectronix and 12XU will accompany a local buffet provided by Easthampton vendors. Come learn about the achievements we've reached in the last 14 years, and our future goals for Flywheel's 15th anniversary.

The event starts at 6:30PM. Please RSVP online or send an email to info@flywheelarts.org.
If you cannot attend the meeting, please consider renewing your membership (or get one for the first time!), or contact us to become more involved at Flywheel.
Thank you again for all your support and contributions to bringing underrepresented art in the Pioneer Valley!
---
Give a Zine! Read a Zine! Make a Zine! Open Zine Library Hours
Sunday, Oct. 20, Flywheel is having open hours for zine making and reading. Come in from 1-5PM to relax and read zines from our collection, or make yr own zine. No art skills necessary and all are welcome. There will be supplies, snacks, coffee and tea.
If you have zines to donate, feel free to stop by and get them added to the collection!
Co-sponsored by Mount Holyoke College Zine Club
Free Admission!
---
Fall 2013 Flywheel Record Fair
Come and check out over 25 vendors selling LP's, 45's, 78's, tapes and music memorabilia! This event is a fundraiser for Flywheel Arts Collective.

Free Admission!
Sunday, Oct. 13
10AM-3PM
Flywheel Arts Collective, Old Town Hall Building
43 Main Street, Easthampton MA
---
About Flywheel
Flywheel, a collectively run, not-for-profit space, aims to build community and give artists of all types the opportunity to craft, practice, and perform their work in an environment where creativity is valued over profit. Volunteer-run and governed by consensus, Flywheel believes that art and information should be equally accessible and affordable to all people. The all-ages, alcohol- and drug-free space features a cafe, zine library, performance space, and an art gallery. LEARN MORE ABOUT FLYWHEEL.
Events Calendar
Keep an eye on this space for info on upcoming meeting dates, events, and performances.
---
December 5, 2013
6:30 - 9:30 p.m.

ECA+ hosts its Light Up the Arts Holiday Bash throughout the Old Town Hall. Come support the arts in this holiday celebration!
---
December 6, 2013
8pm 7$

This will be the W.Mass record release show for Migrations In Rust "Two Shadows" lp on NNA. A review of the lp says "Orchestral landscapes blend with rustling textures in a zone between melancholy and serenity"
John coming up from NY to play. Folks might recognize him from his lp on Hanson "Slice through or/in glassmetal
Diaphragm
Nick Pace beckons you with the ripened fruits of his labor.
Ben Kudler
He's back!
---
December 7, 2013
7pm-9pm $12

MOM BABY GOD is a new one-woman political theatre piece that takes audiences inside the anti-abortion movement. The show follows an up-and-coming teenage anti-abortion activist as she navigates the political terrain at the fictionalized Students for Life of America Conference. Six other characters–from priests to abstinence-only sex educators–provide humorous, insightful and shocking looks into the movement. Celebrate the 40th anniversary of Roe Vs. Wade by delving into a line of inquiry that puts indoctrination, groupthink, and America's twisting moral code at the center of the debate. Explore how young women today develop a sense of self and sexuality amidst the ongoing political backlash against feminism and reproductive rights.
100 presale tickets are available for this performance. Purchase of this ticket also gets you admission for the J.D. Samson & MEN performance following MOM BABY GOD at 9pm!
---
9pm-11pm $12

Brooklyn-based band and art/performance collective led by LE TIGRE's J.D. Samson.
Pre-sale tix with a .75 cent service charge are available below.
---
December 11, 2013
7:00pm Free

Flywheel General Body Meeting
All are welcome.
---
December 12, 2013
6:30pm

Zine Committee Work Party
Help us catalog our growing zine collection!
---
December 14, 2013
9AM

Easthampton Family Council presents Milk and Cookies with Santa. 9AM to 1PM
---
January 11, 2014
10:00am Free

Saturday Morning Music Party
Join us for free pancakes, an episode of Pee Wee's Playhouse, and a dance party courtesy of DJ Youthelectronix.
---
January 30, 2014
6:30pm

Press Ready Class with press expert Sarah Platanitas, brought to you by ECA+ and ECC. Learn how to write a press release and get the word out about your event!
---